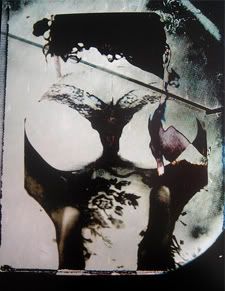 What do you get when you combine:

1 degree in Fine Arts
1 degree in Fashion Design
1 Masters Degree in Jewelry for Fashion

And you wrap it up in one sophisticatingly brilliant artist classically trained at a higher education institution famed for its outrageous, innovative, and avant-garde reputation?

You get Shiri Zinn, exhibitor at the controversial Museum of Sex, winner of the 2002 International Erotic Award, and conceptual designer of erotic toys. Zinn centers her collection of works on "modern day perceptions of eroticism and empowerment. Her work represent a dynamic fusion of art, jewelry, fashion accessory and product design. It challenges the boundaries between what is deemed acceptable and unacceptable for public consumption, and questions value judgments made by key influencers including media, fashion and product industries."
These functional art pieces destined for intimate and pleasurable use incorporate quality, artistic design, and the sensual philosophy of 'by women for women' luxury.
Through quality and beauty, Zinn challenges the prejudices and preconceived notions about sexuality, and uncovers unexpected glamour in the marketplace of erotic toys.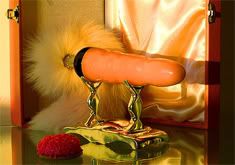 Zinn's erotic creations are made of solid organic glass, the latest material to be used in sex toy manufacture. Allowing for a more weighty feeling, solid organic glass is a wonderfully receptive material to warm & cold sensations. Fur and feathers are profoundly sensual materials, while diamonds have seduced us for centuries. A decadent self-indulgent art worthy of a little artistic naughty display.
Visit Shiri Zinn for details on her erotic collection.
The Minx and other fine Erotica can be found at Coco de Mer.
Above image from The Domestic Minx–flickr