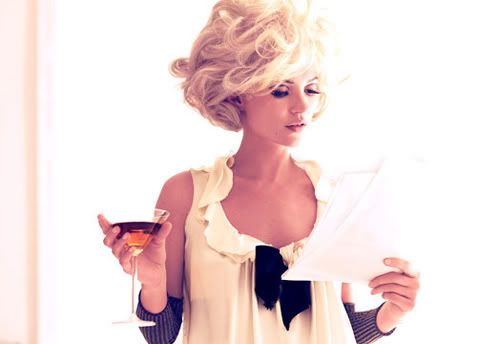 Grandma Gilding is the only person Gilding has ever known who actually knew all the lyrics to that well hummed-throw in a few words here–humm humm–word–ooh ooh lyric!!–humm humm New Years song Auld Lang Syne.
Grandma Gilding had a favorite past time of teaching Gilding all those naughty songs that made young mothers blush when their child sang them in public. But Mommy Gilding could never get past laughing long enough to yell at her precocious, hell bent on defiance, daughter.
Auld Lang Syne was strangely never a song Gilding could seem to pick up. An oddity of oddities since Gilding tends to retain the most bizarre of information. But as the years have gone since Grandma Gilding's was of the health and mind to sing, Gilding has come to miss hearing that badly sung, slurred-not-by-alcohol-but-eggnog (ok, so there was Captain MOrgan's in the eggnog, but only enough to substitute for Yellow #5) melodrama called Grandma Gilding's Auld Lang Syne.
A much younger Gilding had never gotten past her eye-rolling, finger-tapping-till-she's-done-singing-to-kiss-her-goodnight-and-hightail it-to-the-bedroom-for-sleep, to ask Gilding just what the hell all that purposeful growling out in baritone so as not to yowl meant.
So Gilding decided to look it up. And in a condensed version:
Auld Lang Syne is an old Scottish song that was first published by the poet Robert Burns in the 1796 edition of the book, Scots Musical Museum. Burns transcribed it after he heard it sung by an old man from the Ayrshire area of Scotland.
"Auld Lang Syne literally translates as "old long since" and means "times gone by." The song asks whether old friends and times will be forgotten and promises to remember people of the past with fondness.
The lesser known verses continue this theme, lamenting how friends who once used to run about the hills and pulled up the daisies and paddled in the stream from morning to dusk have become divided by time and distance. Yet there is always time for old friends to get together—if not in person then in memory—and a good-will drink."


Link: Auld Lang Syne, BY BORGNA BRUNNER