Oh, bestill Gilding's junkie heart. Perhaps Mr. Gilding with forgive a pink vanity (and the Glamour Junkie of her heart) if surrounded by four walls of Fafinettes. A little booty wins him over every time.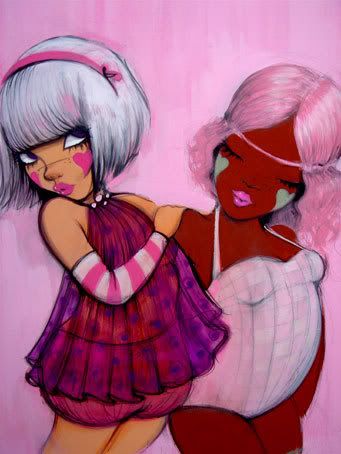 Fafi is a strong presence in the graffiti and fine arts scene with her painting and hustling her sexy, funny, and sometimes aggressive girl characters, kick-starting a whole new graphic language by exploring feminity through stereotypes, and using it to her advantage.
In 2007, Fafi entered a new phase in her artistic life. Having become a mother and moving to Paris, Fafi introduced a new depth to her creations. Now not only are the Fafinettes fly girls, they also run a whole universe of creatures, homes and vehicles. It's called The Carmine Vault. It's a dreamy and peculiar place.
Oh, how Gilding wants a Fafi filled home!


Link: Fafi
Via: the pink-a-dilly Glamour Junkie