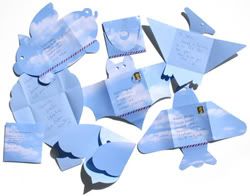 These remind Gilding of those grade school notes silly young girls pass to their girlfriends, delicately folded in some new twist and fold shape learned from one girl to the next.
Johnson Banks Post Office specially produced these airmail letters, a special twist on self-sealing aerogramme letters apparently popularly sent by children in Australia.
Johnson Banks designed eight in total which fold down from die-cut shapes into square letters.

Link:
Johnson Banks