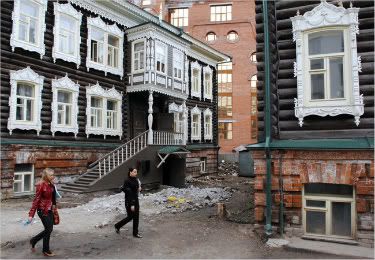 City official, Nikolai Zakotnov, came by 32 Kartashov and vowed to rescue it. Once serving as homt to a 19th-century merchant, the little log masterpiece with ornate doors and shutters carved like doilies, became a woebgone flophouse after the Soviet years, and had all but given up on itself as no one in the Siberian city could even be bothered with it. But Zakotnov saw standing an example of Tomsk's unique architectural heritage.
The riverfront city of Tomsk finds wooden buildings erected before Communism filling its side streets and now standing in various states of decay. Some of the Gingerbread Houses are already gone, demolished and replaced with high-rise apartments, supermarkets, and offices. But as Tomsk prospers from trade, pressure is growing for new real eastate projects, especially in the commercial center. Yet 1,800 or so still remain and so the balancing act of economic growth and historical preservation ensues.
Zakotnov hopes that a third of the Gingerbread Houses can be saved and restored, creating a historic district, perhaps even becoming an attraction for tourism, the city being a mere four hours from Moscow by plane.
"In the old days, the homes' owners competed to show off the most lavish wooden designs, like American suburbanites vying to have the most verdant lawn on the block. Craftsmen flocked to Tomsk and other Siberian cities, and their art thrived. To create such carvings from wood was a fine way to honor the Siberian forests."
But with the revolution, the government converted these homes and turned them into communal apartments, first housing up to three and four families into each, and by the end of World War II, the buildings were crammed with eight or more families as factories were evacuated to Siberia from the front. Under Communism, when everyone was responsible for upkeep of the homes, no one was.
Using $3 million from this years city treasure, Zakotnov will restore a dozen buildings, replacing corroded logs with new ones, using Siberian larch, and completely renovating the interior, including, for the first time, bathroom. (Outhouses can still be found in the backyard.)
But not all are happy with the final product.
"It was better before," said Nina Kupina, 85, a retired bookkeeper who was leaning from a window of a house that had been all prettied up — tan paint, beveled window frames, new roof. "But then they had to redo it, all those fools. They spoiled it all."
Ah well, c'est la vie.


Link: NYTimes– "A Fresh Take…"