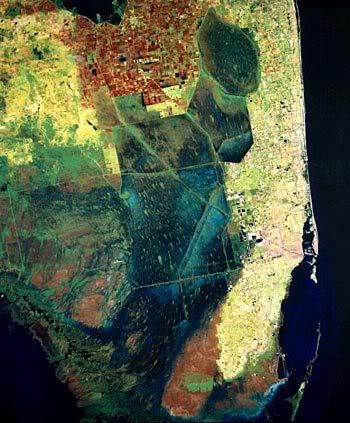 In what environmental groups say would be the largest ecological restoration in the country's history, Florida has made plans to purchase U.S. Sugar Corporation, the nations largest producer of cane sugar.
The intention is to restore the Everglades by restoring the water flow from Lake Okeechobee, in the heart of the state, south of Florida Bay. The flow has been interrupted by commercial farming; the Everglades having suffered as a result. Some 68 animal and plant species are now considered at risk of extinction due to lack of fresh water and over 50 years of attempts to redirect water flow to farms and cities.
Under the terms of the tentative deal, U.S. Sugar would continue its farming and processing of cane sugar for six more years before closing the business and allowing the 187,000 acres of land to return to its natural state. Included in the purchase of the land is U.S. Sugar's whole production facilities, including a new mill and a railroad. Florida has offered to pay U.S. Sugar $1.7 billion.
Though plans are not complete, state officials said they hope to sign a contract in September.
While the Everglades will rightly reclaim its land, the demise of U.S. Sugar Corporation will cost 1,700 people employment. But as Robert H. Buker Jr., the chief executive of U.S. Sugar said, "it's the dollars and cents, and its the right thing to do."
Don't you just love how money, even in an act of good for the eco system — or rather, righting a past wrong — is the first and foremost concern and not, as Immanuel Kant would say, the act of doing good because it is your duty and that that act of good must be an end in and of itslef and not a means to an end. So 1,700 people will lose their job but, as Kant would see it, such is an accidental consequence to doing an act of good, which should be in and of itself the ends of the means. But its not. The fact remains that these people are losing their job and the Everglades are gaining back their land, but U.S. sugar isn't giving the land back to the Everglades. It is selling the land to Florida and the douche bag capitalist above is going to bank because Florida citizens tax dollars, including the ones that will be losing their job in six years time, will be paying him for it. Such a monumental act of ecological restoration seems trite when you think about the picture as a whole instead of its pieces.


Link: NYTimes — "Florida to Buy Sugar Maker…" | U.S. Sugar Corporation


The image above is a thematic mapper image showing the Everglades, a.k.a. the "River of Grass", contrasting sharply agsint the adjacent developed and agricultural areas. If Gilding is reading the map correctly, the brown area in top center of the image is the U.S. Sugar Corporation's 187,000 acres and the patch of blue-green above it is Lake Okeechobee, the adjacent fresh water that has been cut off from the Everglades. Satellite image from