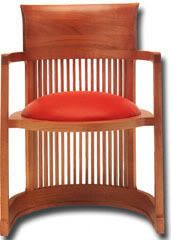 The "Barrell Chair" by Frank Lloyd Wright was designed in 1937 for Herbert Johnson's house, Wingspread. Made of Natural cherrywood with an upholstered leather seat, the chair was actually a reworking of a design Wright had originally created in 1904.
Wright saw the chair as an architectural challenge. Using tall, straight chairs as a screen around tables, the simple shape of Wright's chairs allowed for machine production and therefore affordable design. Wright was of the opinion that machines could actually enhance the designs; "THe machine has liberated the beauties of nature in wood." Speaking to the Arts and Crafts Society in 1901, Wright said in his lecture, "…with the exception of the Japanese, wood has been misused and mishandled everywhere."
Also features in Wingspread is the Johnson Wax 1 Writing Desk. Characteristic of Wright's designs, three geometrically shaped wooden tops positioned at different heights provide more than ample writing room. The harmonic 'wingspread' design of the desk even allows for multiple users of this desk at the same time with leg room made to spare on the left hand side and table space. The desks steel structure continues the patterns of Wingspread and is painted in brick red (to match the cherry tops).
The desk is equipped with two drawers, a wastebasket, and two racks. Small parts for accent and construction are made of glossed brass.
Gilding, an admirer of Wright's since childhood, had the distinct pleasure of seeing these pieces last Spring at the High Museum in Atlanta. And yas, it took some serious restraint and posted museum guards to prevent Gilding from sitting in them. Oh, don't give her that look. It's furniture. It's meant to be sat in. Silly museum coordinators.


Link: About.com– "Architecture You Can Sit On" | bonluxat