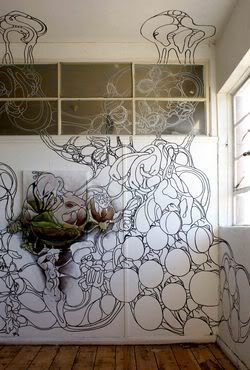 Henry David Thoreau said, "The world is but a canvas to the imagination." Painter and bookmaker, Evy Jokhova concerns herself with the deepest recesses of imagination's psychology with that of her own current craze with fantasy and fairytales within contemporary society.
Through various medias, Jokhova creates make-believe worlds that focus on escapism through imagination. As Carl Sagan once said, "Imagination will often carry us to worlds that never were," and Jokhova works are an attempt to realize the need for inventions of unrestrained fantasy in our society; defining the moment when the boundary between the real and the imaginary blurs.
Referencing everyday life, Jokhova morphs
the mundane objects of our daily lives into
people and animals, creating fantasy worlds, dreamscapes, and imaginary creatures. Most intriguingly is the fluidity with which these scenes morph over various medias within one works, let alone several, creating fantasy worlds that never meet boundaries and wholly involve the viewer in a surreal world meant to inspire the imagination and encourage involvement with the works.
Repetition and layering are used within the works to help the ebb of this boundless of fluidity and manipulate the imagery within to create new forms. Composition, line, and form come together to create abstract and representational forms from basic forms that manipulate imagery and construct exploration rather than specific imagery. The installations become portals into an alternate world that surrounds us within our own.


Link: Saatchi Online