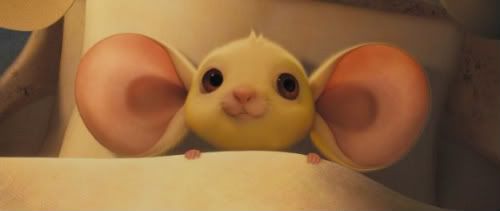 Despereaux Tilling is a mouse…er, rather, he is the mousy embodiement of love, hope, empathy, forgiveness, adventure, and…depair. He has big dreams, and is author Kate DiCamillo's tidy packaged tale of mice and men, where she explores the "powerful, wonderful, and ridiculous" nature of love, hope, and forgiveness. DiCamillo's old-fashioned, somewhat dark story, narrated "Dear Reader"-style begins "within the walls of a castle, with the birth of a mouse." But from birth, Despereaux Tilling is different from all other mice. Sadly, the romantic, unmouselike spirit that leads the unusually tiny, large-eared mouse to the foot of the human king and the beautiful Princess Pea ultimately causes him to be banished by his own father to the foul, rat-filled dungeon.
This first of four books tells Despereaux's sad story, where he falls deeply in love with Princess Pea and meets his cruel fate. The second book introduces another creature who differs from his peers — Chisroscuro, a rat who instead of loving the darkness of his home in the dungeon, loves the light so much he ends up in the castle — and in the queen's soup. The third book introduces yet another unlikely hero — young Miggery Sow, a girl who has been "clouted" so many times that she has cauliflower ears. Still, all the slow-witted, hard-of-hearing Mig dreams of is wearing the crown of Princess Pea. And finally, the fourth book returns to the dungeon-bound Despereaux, and brings full circle the connected lives of mouse, rat, girl, and princess in a dramatic denouement.
"Children whose hopes and dreams burn secretly within their hearts will relate to this cast of outsiders who desire what is said to be out of their reach and don't dare to break 'never-to-be-broken rules of conduct'."–Karen Snelson
This tale of three unlikely heroes — a misfit mouse who prefers reading books to eating them, an unhappy rat who schemes to leave the darkness of the dungeon, and a bumbling servant girl with cauliflower ears — whose fates are intertwined with that of the castle's princess, has been turned into and Eeeek-ingly cute motion picture. Film's release date set for December 19, 2008.
2 Comments
restaurantstrip

said,

the movie is great. I really want to have a copy of the books. this movie is really enchanting and funny… I really recommend this movie to all children and childrenlike like me…….

Gilding

said,

The Gilded Duo took their neice and nephews to see it opening weekend. Even the brooding 13 year-old enjoyed it.