The nine-unit
multiple dwelling
Reversible Destiny
Lofts are the first
completed example
of procedural
architecture put into
residential use.
Works of procedural
architecture function
as tools that help
the body organize
its thoughts and
actions to a greater
degree than is
usually present. In other words, these works force the individual parts of the body contemplate how and why they perform a specific action a particular way and then forces them to reconsider those actions to perform them in a new way. The procedural architecture of these lofts take into account all those everyday actions and movements that function within a home and through its design recalibrates our actions within them enough for us to doubt ourselves long enough to find a way to reinvent ourselves through new actions. Essentially, the architecture of the lofts make us question why we are the way we are. But no worries, for the equilibrium challanged the lofts come with a set of directions for use.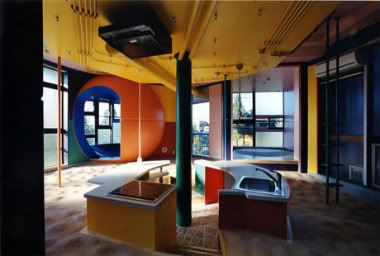 By virtue of its design, contruction, features and elements and their juxtaposition, the Lofts make vivid to the operant (that would be us) their tendencies and coordination skills that architects Arakawa and Madeline Gins have come to determine through their findings from their decade-long research in The Mechanism of Meaning, as essential and determinative of human thought and behavior.
The living space within these Lofts both prods and coaxes its residents to continue living, the architect's optimistic hopes that the Loft will thusly have the capacity to help extend the resident's life span and quality of life.


Link: Reversible Destiny Lofts