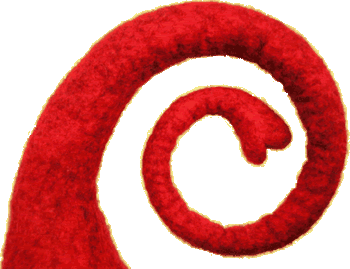 One of Gilding's
favorite childhood toys
was her Wuzzle Ellaroo.
There was something
pleasantly comfortable
about his dopey yet
genuine and sincere
demeanor. But one of the
single most greatest
things about the toys of
the 80′s is that many, if
not most, came with a
story, a personality, a
community, and lessons
and values to be had and
shared that you don't find in toys of today's generation. At least not mass-market ones. What lessons could be learned from these new fangled toys are often shallow. Their sense of personality is often shallow. Their community is often shallow — oh, and pretentious and rife with a "give me more attitude". Nothing anymore seems to be as wholesome as it used to.
So let Gilding now introduce you to a new world of toys that brings her faith back in what it means to be a kid.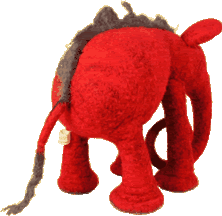 Flizkins are mysterious creatures from a distant planet where new life emerged from floating clouds of wool and fluff left over from the wasteful asses on Earth. The fluffy residue tumbling about the universe conbined with particles of H2O and soapy alkaline flakes in one sudsy chemical reaction that brought to life the species now known as Flizkins with one deliciously soapy pop.
Living on the planet O'Sudds, so named by their ancestors due to the vast, deep oceans of bubbly suds that slosh about its surface, the Flizkins are naturally inquisitive and adventurous. This penchant, of course, is what drove them to find out more about the planets that wink so mysteriously at them in the night sky.
One wrong turn and a wildly off course burst into the Earth's atmosphere sent 18 Flizkins crashing into the Earth's surface, catapulting them across the globe in different directions. By the time they had found one another again, they had grown accustomed to our planet, even adopting some earthly characteristics and a love of music. Each one learning how to play a different instrument, the Flizkins formed an eclectic band and now travel about the globe, each a character unto themselves having a distinct personality, ability, and talent.
And, of course, Gilding's favorite is Enoch, a Flizkin burdened burdened by the world's most sensitive (and stuffy) nose, and allergic to even the most single speck of pollen, the tiniest piece of puff. And a penchant for ear-splitting, volcanic, blasts and bouts of sneezing that happen at the most inopportune times. Big and clumsy, and prone to stepping on other Flizkin's tails, he overcomes his deep embarrassment by playing the triangle, as it makes him feel dainty. Oh, that, and any other instrument would affect his sensitive nose.
See, now that's what makes a great toy! Soft and plushy and filled with as much imagination as polyfill, Sebold's Flizkin's are what make childhood companions out of toys and inspire wild adventures that we daydream back to well into our adulthood, and maybe even revisit every once in a while when no one else is looking.


Link: Sebold's Originals