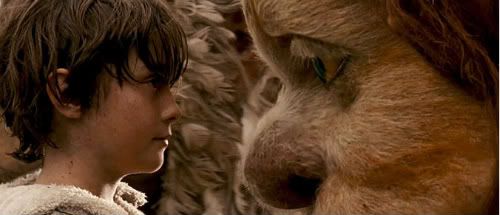 One of Gilding's fondest childhood memories is of reading Maurice Sendak's Where the Wild Things Are. Almost every chance she got to check this book out from a local or school library she did so. Well up into her teens even. Interestingly enough, with all the books she did own in her childhood (Gilding even owned a first edition print of The Neverending Story at the tender age of 4), she never owned her very own copy of this book. Still doesn't, in fact. Perhaps she shall remedy this over the weekend.
Still, she has been in anticipation for this movie adaptation for years now. USA Today has released more images that have been released from the Wild Things camp. And while Gilding, of course, perused them once, twice, three times a plenty — drooling — its almost cruel the images being released and yet the movie is so far from release; the film is set to arrive in theaters Oct. 16th.
How true to the book the film will be, one will only know once they have seen it. Filmaker Spike Jonze has openly admitted to investing his own brand of offbeat into the favored bedtime classic. Keeping close contact with Sendak, 81, as a consult, Jonze says: "He was adamant that I make my own thing…'Make somethig personal to you.' Early on, he was very quick to insist on that." And that's because that's what a children's book is supposed to do. As adults, we become so worked up over the business aspect of things; the property rights, the plagerism laws, and so on, and so on, that we forget what these books did for us as children. They inspired us. The characters we met leapt out of the pages after the story was done and became our own friends with which we wrote our own stories — a continuum of existence for them, but our own, nevertheless.
But one of the best things about the film — at least to Gilding, who is a child of the puppeteering and animatronic world of Jim Henson and Brian Froud — is that Jonze didn't digitally create the film's beasts. Seven very tall Australian actors were hired to don costumes of the beasts; Jonze didn't believe anything less would do justice to the passion felt by fans: "I wanted them to actually be there…There's a danger with Max being there on a real location. Dangerous and exciting. I wanted it to feel that you could hug them."



Link: USA Today