Remember Gilding mentioning that she lives in the land of horrible beach kitsch. Not that glamorous sophisitcated rustic style of Martha's Vineyard or the Hamptons, not the quaint and comfortably aged feel of some beachside Maine, New Hampshire, or Connecticut community. No, she lives in the epicenter of tacky beach kitsch hell. Think of every horrible design feature in any seaside hotel you've ever been in, every eye blistering color, every painted palm tree, sea shell and wicker framed piece of furniture that left you wretching and guess what, that's a product of Gilding's hometown's design contribution. Even its sophisticated beach kitsch is hideous. Now don't take this as an oath of ill thoughts of her own hometown, for as insane as it may be, Gilding is quite attached to the little place and reveres it for the comforts it provided her childhood and all the things that she sees it could become — provided that all its current county legislators were excommunicated to some other towns problem and set anew were people with progressive ideas — driven on something other than corporate capitalism — a sense of community, an ability to think fairly, objectively, and with heart, and speaking of heart….oh, well you get where she's going with this. Its what we all want of our legislators.
But what does this post of her hometown's idea of beach chic all lead up to. Why, Gilding's discovery of a furniture style naughtily called "Grotto" and encompassing all the lines and curves of water, beach woods, plants, and grasses and the gifts of the Sea and her maiden jewels of shells. Ok, so you may be rolling your eyes at Gilding for only just now discovering this, but remember, for all her big words and haughty ideals, she is but a spring chicken in this world; still new to all its discoveries and not yet completely jaded, but able to still be awed and surprised every once in a while.
Boy, Gilding has been on quite a roll of gilding the lily of late hasn't she. Oh well, you love her or else you woudn't still be reading this…you are still reading this…aren't you?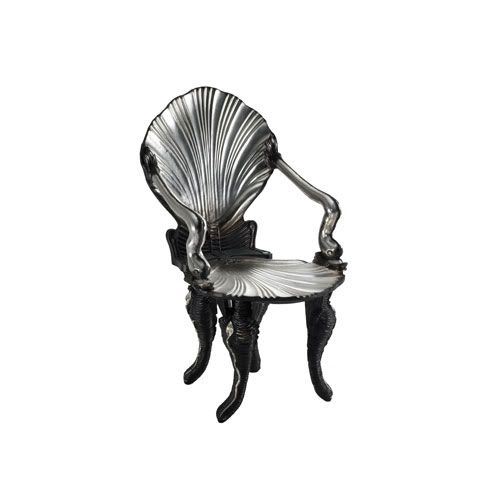 What first brought Gilding to the discovery of this Grotto design was this chair [above] by designer Michael Von Jakubowski, found on Moss Daily New. This particular chair is hand-carved of wood and silvered poliment.
According to Moss, there is no record of exactly when the first Grotto furniture was created, however, furniture with similar decorative elements were popular in the Renaissance period, and were designed for the artificial grottos of Royal palace gardens. These pieces of furniture had Mediterranean themed carved features: shells shaping the chair seats and backs or table surfaces, dolphin shaped legs, sea horses, algae, coral, sea snakes all made their presence in the form. Even mythical creatures such as winged horses and small dragons appeared. Usually the wood would be stained a rich walnut color or would be covered with a poliment silvering, with gold and brown painted highlights.
Records of Grotto furniture production in Venice do exist starting from 1890, until production ceased in 1930, and many of those pieces can be found in museums and private collections as covetous Venetian masterpieces.
Now see, that's the kind of beach kitsch Gilding's home town could sport — since ridding itself of that would simply be unthinkable for this town for fear of losing any personal cultural identity that it may be able to claim, if on that alone. It could be argued as tacky, but there is something so regal in its design and the simulated lines of things natural and organic solidifying the feel of always being by the ocean that is so important to inhabitants and visitors of this land of sugar beach sand and gently crashing waves.
And just for fun, here's some more Grotto furniture that Gilding found in her search: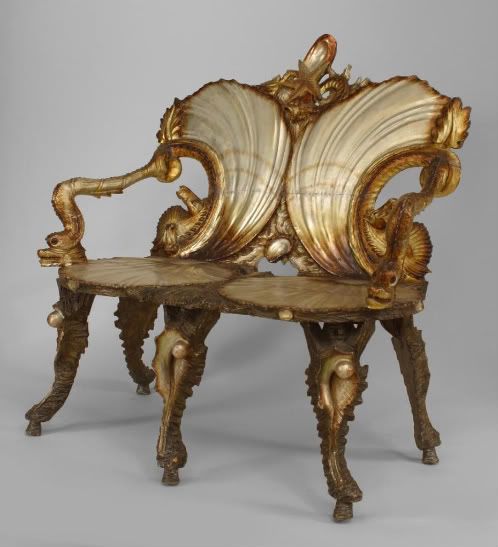 Images [above] from Newel.