So Mr. Gilding is particularly up in arms about this newest cinema development, and even Gilding has to agree that his outrage isn't the ramblings of a crazed artist, but is in fact justified.
M Night Shyamalan has taken up filming the wildly popular animated series Avatar: The Last Airbender, originally a Nickelodeon show. The show, of which Shyamalan's film is based, featured Asian characters in a fantasy setting inspired by and following some cultural aspects of a variety of Asian cultures. The characters fight with East Asian martial arts style, have Asian features, dress in clothing from Asian cultures, and write with Chinese characters. In short, it was an inspiring cartoon for many Asian American children as it broke from the predominantly white American media. The Gilded Duo's own niece and nephews found a particular kinship with the animated series being that the characters looked like them and held to many of the Asian traditions that they themselves grow up in, even living in America.
But on December 9th, 2008 the lead roles were cast for Shyamalan's upcoming film The Last Airbender and all of them were cast as white actors. That started a barrage of protests, from the creation of websites like RACEBENDING.COM to outraged blog posts like the one written by Margaret Cho.
And to add insult to injury, here's some comparison pics for you:

Above, the characters from the animated series: Katara and Sokka, siblings from the peaceful and oppressed Water Tribe; and Zuko, prince of the tyrannical and genocidal Fire Fire Nation.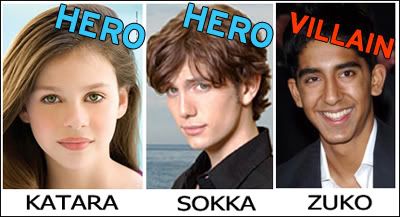 Above, the most recent casting form the film: Nicola Peltz as Katara, Jackson Rathbone as Sokka, and Dev Patel as Zuko (though originally the role of Zuko was cast as Jesse McCartney, a blond haired, blue-eyed pop singer).
Gilding has to agree with the ensuing protests. Movie houses have been notoriously spoken of in Asian communities for their inaccuracy in casting Asian specific roles with any ole Asian culture — such as casting Korean of Thai extras to play the parts of Vietnamese actors in Vietnam War era films — you know, because hiring locals of the film's location is so much easier than actually hiring Vietnamese people, showing no understanding of the cultural relativeness that they are all different peoples and don't look as much alike as they think they do. While this is most certainly a slight, casting white for Asian is a serious offense.
Efforts to stop or delay the film's production until casting is changed to accurately reflect the culturally relevant necessity of casting Asians for Asian roles is underway. Petitions are circulating; even one available at RACEBENDING.COM. Paramount, and other movie houses, need to understand that perpetuating stereotypes and denying the cultures of the world are not acceptable. The message being sent is that being Asian isn't OK, it's somehow less. That's not the message Gilding wants sent to her niece and nephews.
There are some amazing responses by Asian Americans on Margaret Cho's blog that Gilding encourages reading.