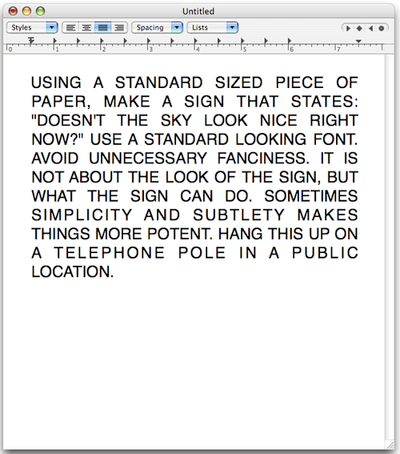 This is cool. And perhaps just the right amount of randmoness that we should inject into the daily humdrum of our frantic lives. Too often are we caught up in all the tings we have to do, including those things we categorize as leisure, that we completely negate the power of the simply random — the doing of something utterly off the course of our regular map simply for the doing and the potential joy that its consequence may bring us…in otherwords, the "just because."
This is the David Horvitz Project. For all of 2009 he will send out small texts of simple instructional ideas through a mailing list as well as posting screenshots of those instructions on a tumblr page. Aside from the "thinking them up" and sending/posting of the ideas, Horvitz relinquishes all power of the idea to us, the viewer, to do with them all the creative power we wish to do with them — no restrictions.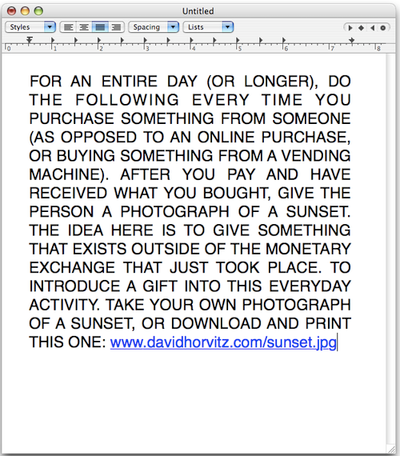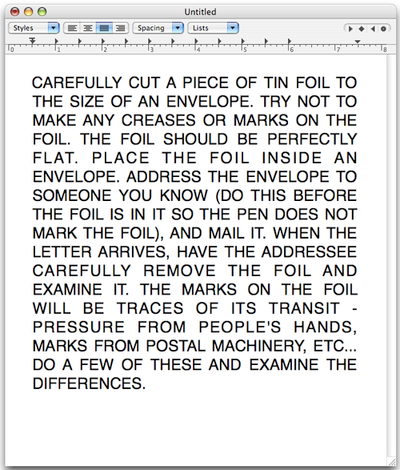 These were just a few of Gilding's favorites. She is going to try valiantly to perform some of these, at the very least once a week. Via Halcyon Days.