In the world of interior design, we have seen a dominating trend of layering — layering pattern, color, texture, shape, and so on and so forth — on top of every imaginable surface. If not a bombardment of layers, then a simplistic echo of its noisy brethren with the presence of damn near nothing — a blank canvas devoid of color and plastered in smooth monochromatic colors, lines, and shapes.
Surrealien, a German design house, found this method of layering on our walls to be a method of ignoring architectural preconditions. Though wallpapers have come into their own as a decorative fashion and not necessarily a faux pas, they are still treated in the same manner — slap it on, do your best to make sure all the seams and patterns line up, and then pile on top all those pictures, borders, and whos-it-magoos of decoration.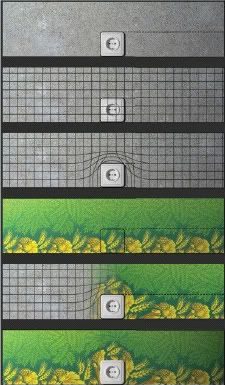 Surrealien's wallpapers now blur those lines that border architectural wallstructure and apllied interior decoration. But don't think of this wallpaper as a mural — its not a design that's made to piece around architecture so it is seemingly fluid; that appearance of a complete picture simply skipping a spot and continuing in the next. Rather, the wallpaper is adapted to the particular infrastructure of a room so that the paper's design literally moves around the architectural detail; like being pushed by some previously unknown about force-field.
All the necessary information about the rooms infrastructure — doors, light swtiches, every hole or discontinuance, even the intended placement of hanging baubles like pictures, paintings, and aforementioned whos-it-magoos — are turned into a technical plan. A schematic grid is then applied and all those defined parts are turned into objects with their own force-fields that interact with the wall paper patterns. Depending on the shape, size, and position of those influencing wall elements, the program generates exact warping functions.
Link: Surrealian