What perfect tiny trees…Seriously tiny. Standing two-and-a-half feet tall, the trees are made of 100% sustainably harvested American Maple. Each tree has seven pieces that easily slot together (Yay, Gilding loves Kinex-like projects — about as much as she loves set-it-and-forget-it…well, everything) and come apart with no hardware. Best yet, the trees are an affordable $35 and even cheaper if you purchase all four designs in a bundle pack.
So who are the
creative little minds
behind these Tiny
XMas trees? Because We Can is a design-build studio, located in Oakland, CA, and though primarily composed of husband and wife team Jeffrey McGrew and Jillian Northrup, consists of a studio mash-up of designers, artists, creatives, fabricators, and builders who help design the project, manage its construction, and build (in all or in parts) it. BWC specializes in creating space, environment, building, piece, product, or custom fabrication that is unique yet affordable, interesting, and productive. Meaning, you can leave things up to these creative geniuses and partake of their creations for an affordable price, or you can custom order anything — or so they boast — and they will make it in-house or pull together the creative folks necessary to build it. From their portfolio, it looks entirely possible that they really could build you whatever you want. Check out their ESP conference table for Comic Debris and this entirely too cool Spooky Puppet Theater made for Backbone Entertainment.


Link: Because We Can
Gilding the Lily reader, Steen, will have to be thanked for this one. Gilding has been rather neglectful of this blog for a little while now; time just has not been on her side and Life won't get the fuck off her back, the obnoxious little monkey! So thank you to all those readers who have faithfully thought of Gilding when she has been so absent. Now on to the fabulous!
Designed by London architect Julian Hakes, if you take a moments look at it, you'll see exactly what it is–and it is brilliant!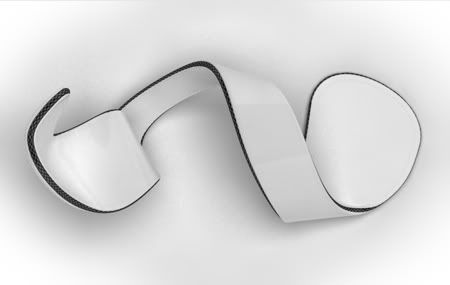 Called Mojito, the design is a shoe–minus a footplate. The single piece wraps around the wearer's foot and uses the natural design of the bridge of the foot to complete the balance of the shoe. The foot's built-in strength from its form allowed Hakes to deconstruct the common shoe into its essential parts, support for the heel and ball of the foot. You can read the artist's account of how she came to design the shoe on dezeen.
While the shoe is not in production yet, Hakes is currently in talks with specialist shoe fabricators for the initial prototypes. [Via: <a href= "http://www.dezeen.com/2009/09/23/mojito-shoe-by-julian-hakes/#more-41637&quot; target= "_blank"dezeen]
Talk about a cry-fest. Even Gilding cried like a ninny when she read this one.
Diagnosed with brain cancer, 6-year old Elena Desserich was given 135 days to live–she lived 255 (2007). After her passing, Elena's parents began finding hundreds of notes hidden in any nook and cranny throughout their home, all of them from their daughter. What must have been an exhaustive feat during her illness, Elena created these little love notes, a few of which are shown here:

…these notes were found tucked in backpacks, dresser drawers, between bookshelves and CD cases.
Elena's parents have had these notes published in a book entitled Notes Left Behind to fund the non-profit organization The Cure Starts Now, dedicated to fighting pediatric brain cancer. Visit Notes Left Behind for the full story and details on where you can purchase the book.
Now if you'll escuse this deviant; she has to go take care of this blasted heart that has suddenly grown two sizes too big. No body likes a nice Gilding.
Via: neatorama