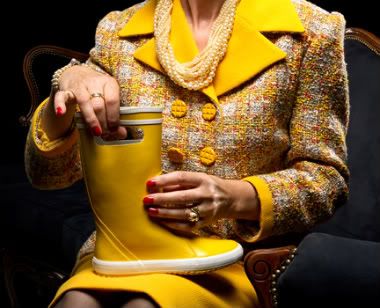 By simply making a hole in a rubber boot, designer Saskia Marcotti has created an original, kickass bag.
But 'puddle-stompers' have recently made a more tender place in Gilding's heart. Ok, hard to believe, bitchy as she is, but it's the truth. Blame it all on that little ray of sunshine that was Marisa — rather, make that is, because next to rainbows and puffy clouds, one big flaming ray of sunshine is about all the containment God could put her in.
In February, Marisa died in a car accident. The loss to all who love her is tremendous, and Gilding can't think of one funeral she has been to that has ever reached the magnitude that Marisa's did. Family and friends poured in and out of Marisa's mausoleum like the ebb and flow of gently crashing waves on the shore.
In harkening sorrow, family and friends listened to the silence to find the whispers of some solace to fill the empty space Marisa's passing left in their heart. What they found was that a space had never been left empty, but filled with more expression and Joy, as was her namesake — Marisa Joy.
Of this sea of joy, sorrowful mourners became artists and philanthropists, and Marisa's beloved 'puddle-stompers' their vehicle.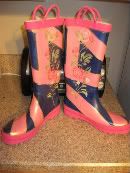 Project Joy Boots is a not-for-profit organization run by Marisa's family to raise money, currently for a scholarship to be established in Marisa's name at her alma mater, Gulf Coast Community College, for future Technical Theater Majors. Rainboots are decorated by family, friends, artists, and just plain cooky people and sold and/or auctioned as pieces of art. Should you want to wear them, then by all means, do so. Afterall, for Marisa, the more outlandish, the more decorated, and heaven knows, if it didn't by all common sense match a damn thing, then it was the perfect pair of 'puddle-stompers'.
Visit Project Joy Boots Facebook page for information on how to purchase or even donate your own pair of 'Joy Boots'. There is also information on how to donate directly to the bank account established for Project Joy Boots raised funds.


Link: gnr8– Bootbag | Project Joy Books on Facebook