Gilding, on some intrinsic level, has always been disturbed by the advertising industries absurd fascination with posing women in scenes of demise, depicting the violent end during or there after. Think back to the last time you saw an ad with a male model dead. And now think back to an ad which depicts a female model dead. You'll find you have more trouble remembering the former than the latter. For readers of Gilding the Lily, you'll remember that one of Gilding's favorite speakers on the media industry is Jean Kilbourne, who notably makes searing social commentaries on the advertisment industries subjugation and objectification of women in advertisement and its societal impact. And while Gilding has said if media is going to subject and objectify, at least make it equal amongst the genders, she's never quite understood the "dead" look as being desirable let alone fashionable.
A professor Gilding once had made the statement that America is a death denying nation. He suggested that this is self-evident in the way we treat death; the nicknames and sayings to say "dead" without actually using the word and their oftentimes "rosy" sounding connotations, such as pushing up daisies, bought the farm, cured of everything, etc..
While perhaps there holds some psychological truth to it, how to explain our fascination with photographing death then. Take, for instance, death photos, in which a dead family member was dressed and then placed in position as if they were alive and then photographed. Sometimes the scenes were posed with other dead family members, such as when members died together or within days of one another, and even with other living family members in a macabre "one last hoorah" with dead brother Bernie.
There is always, of course, the question of necrophilia, disorder characterized by a sexual attraction to corpses. It is an expression of a subconcious need for complete control over another person.
But then how to explain the photographing of perfectly alive people as if they were dead. Never one to stifle artistic creation, Gilding still has wonder about the desire and motives behind this photography, and will always ponder their appropriateness in advertising. Art is one thing, and while advertising is an art form, it has a social responsibility that expressive personal art does not.
So now imagaine the conondrum that photographer Izima Kaoru poses for Gilding.
Since 1993, the Japanese photographer has been creating scenes of sophisticated violence and enchanting horror. Landscapes with a Corpse is the title of his project, if that's any indication to the proposal he made to the models featured in the series in which he sought to reveal in photographic detail their fantasies about death. Above all he asked them which designer clothes they would like to wear when they died. Very Hollywood Bablyon esque, which you may remember is about a 1940′s starlet who is obsessed with her own death after her career goes south.
Kaoru's purpose of the photos is not to allude to something fatal, as the death scene superficially demonstrates, but is a kind of elegant and highly aesthetic ceremony.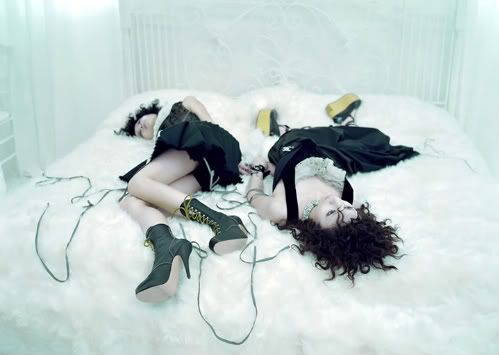 Photos by Izima Kaoru


Link: Studio La Citta | artnet gallery