Blueberry Bumplings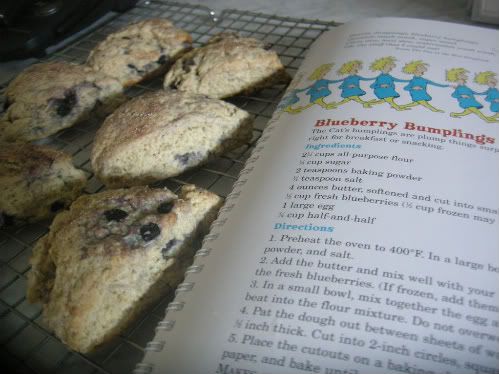 Ingredients:
2 1/4 cups flour
1/3 cup sugar
3 teaspoons baking powder
1/2 teaspoon salt
pinch of cinnamon, plus cinnamon sugar for sprinkling.
4 ounces butter/ cold and cubed
1/2 cup frozen blueberries
1 large egg
1/2 cup cream or half and half
1 teaspoon vanilla
Directions:
Preheat oven to 400 f.
Mix dry ingredients.
Add the butter and blend until mixture is crumbly.
Add blueberries and stir.
Mix wet ingredients in a small bowl and then incorporate into dry ingredients. Do not over mix.
Cut ball of dough into two pieces. Roll out one at a time, into a small circle. Cut into 6 triangles. Repeat with second ball.
Sprinkle with cinnamon sugar.
Bake for 12-15 minutes.


Green Eggs and Ham
Ingredients:
1 tablespoon extra-virgin olive oil
1 tablespoon butter
2 large shallots, finely chopped
1 (10-ounce) box frozen chopped spinach, defrosted in microwave and liquids drained
1/3 to 1/2 cup heavy cream, eyeball it
Salt and freshly ground black pepper
Freshly grated nutmeg, to taste
8 slices deli ham or prosciutto di Parma
8 eggs
Directions:
Preheat oven to 375 degrees F.
In a medium skillet over medium heat, heat the extra-virgin olive oil and the butter and sweat the shallots a few minutes. Add the spinach and stir in the cream, season with salt, freshly ground black pepper and a little grated nutmeg. Cook the spinach, stirring occasionally, until the cream has thickened, 5 minutes. Adjust seasoning to your taste.
Fold each slice of ham or prosciutto in half and line the nonstick cups with 1 slice of meat each. Spoon a heaping tablespoon of the cooked spinach into each of the cups, then crack an egg into each, making sure it stays whole (hint – if you're worried about breaking the egg yolk, crack the egg into a small bowl first, then pour it into the muffin cup). Season the tops of the eggs with salt and freshly ground black pepper and bake in the oven until set, about 15 minutes. Allow the baked eggs to cool in the muffin cups for a couple of minutes before removing them from the pan. Serve immediately.


Link: Food network– Recipe courtesy Rachael Ray | izzyeats
Related Link: I Love Dr. Seuss.com for Dr. Seuss inspired recipes