To be or not to be…traditional that is. Gilding herself ponders this every Christmas. There is a sore state of longing when traditions are not followed. Those same traditions that have always brought warmth to your heart; a feeling of being wrapped up in an invisible blanket of balance and good things. But it is also true that some traditions, though they are warm and cozy to you, are just down-right stressful to the others in your life. Truth be told, traditions come with a sense of perfectionism, for if they weren't bound in perfection would they be a tradition? For a perfectionist, such as Gilding herself is, such stress is a motivator; a sign of the great successor, and for the narcissist in her, any failure at completing a tradition in any less than perfect form is just fine too because she is sure no one else could have accomplished it better for else they would have done it themselves. But that doesn't eliviate the sense of those around her that traditions mean one huge opportunity to not live up to the tradition of yore and all that it has been in the past. So where does one draw the line on when a tradition is worth keeping and when one is not? Gilding herself came to the decision last Christmas that a tradition should feel good, should come with that feeling of warm blankets and soft hugs. And if the feeling can't be shared by all then all that is left is for you to adhere to the tradition of feel-goodedness and be forgiving in letting the others off the hook.
But all of that is a whole lot of rambling for a ponderance that in and of itself is worthy of self reflection. The ponderance of this post is, is a tradition still a tradition if its not the same. Gilding thinks so. Traditions are an essence of things, a ritual of acts meant to observe and bring us closer to our generations of past. But none of that says that the generations of today can't observe it…uniquely. So Gilding proposes this, because frankly they're too damn cool not to be explored.
Take the Christmas Tree. Though the tradition has its roots in Pagan ritual, simply focusing on the tradition in its Christian roots you'll find that Martin Luther is credited with being so inspired by the heavens in the night sky one night that he brought in a fir tree, attaching lighted candles to its branches. From its Pagan past, the fir tree symbolized fire, an ancient symbol for the spirit. To further associate its divine design, the tree points upwards, pointing towards the heavens. Evergreens, another commonly used tree, represented the eternal life, its green color being one of the only constant plants to remain alive and vibrant even through the harsh winters.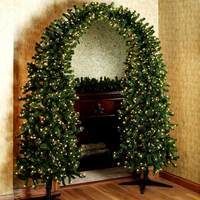 But who says a tree has to be just a tree. And here's where that play on tradition comes in. Perhaps this Christmas is the Christmas to be Seussed with a very Whovillian tree. So its strange, and pictured here arching over a fireplace, the tree is designed for doorways and other archways, but its beautiful construction, and with the minds of the creative Gilded Lilies reading this blog, this tree is truly meant for the grand homage to Dr. Seuss that it is worthy of and beyond. And certainly shouldn't be tucked away as little more than a fancy doorway ornament. Nobody puts baby in a doorway, nobody.
But, Hey, if you have to just to make room for this Upside-Down tree, then baby will understand. Ok, for the religious this tree may just seem wrong, even sacriligious, but according to the Christams Archives, "In the 7th century a monk from Crediton, Devonshire, went to Germany to teach the Word of God. He did many good works there, and spent much time in Thuringia, an area which was to become the cradle of the Christmas Decoration Industry. Legend has it that he used the triangular shape of the Fir Tree to describe the Holy Trinity of God the Father, Son and Holy Spirit. The converted people began to revere the Fir tree as God's Tree, as they had previously revered the Oak. By the 12th century it was being hung, upside-down, from ceilings at Christmastime in Central Europe, as a symbol of Christianity."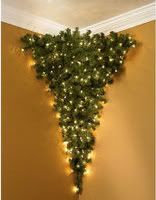 Brain having a bit of trouble comprehending the spatial demands of the Upside-Down tree in your home? It stands 7 feet tall and just a little bit wider at the top than a normal tree. Still, for the worry-warts at heart, this upside-down tree is cut in half to hang perfectly in a corner. Now there's more room for more presents. And please, feel free to compensate for the extra room with presents, with many many more adressed to your dear ole' Gilding. Just don't forget to mail them to her afterwards. Seriously, you think she could afford to drive over to see all of you. That's just silly. And afterall, wouldn't want to start any new traditions or anything.

Last, but certanily not least, let's not forget good old Charlie Brown's Christmas Tree. This poor stragler is in the hearts of every child who's ever seen A Charlie Brown Christmas. Truly a loveable, pathetic little thing, this tree is small enough to accompany you even at work and is exactly like the one from the classic cartoon, right down to its single ornament and criss-cross wooden stand.


Link: Christmas Tree Arch | Upside-Down Christmas Tree | Upside-Down Corner Christmas Tree | Charlie Brown Pathetic Christmas Tree