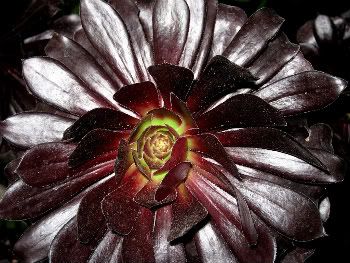 "When I first saw the flower I couldn't believe my eyes. There was a flower, lonely but proudly standing, amidst nothing but sand and more sand. I thought there had to be some kind of magic fooling with me: black flowers are rare, but in the middle of the desert… I approached the plant cautiously. Somehow I could think of nothing else but to pick the flower and treasure it. It is exactly what I did: I took the flower and brought it to my home. Its petals were like those of a water lily, large and shaped like a date, but it had the thorns of a rose, and the scent was strong and sweet and somehow comforting. It reminded me of the roses in Varcopas and as the Desert Rose is a very common flower, I dubbed this one the Black Desert Rose. It was the best name I could think of."
…~Frigord the Weird
Diaries, Vol. VII, p. 45f
Written by the man who owes his name, and death a mere hour later after picking the black beauty, to the Black Desert Rose.
The Black Desert Rose is an old symbol and harbinger of lore of the Ráhaz-Dáth Desert and the people who dwell there; the Shendar and Stratanian tribes.
Vague pictorial designs of this flower can be found in even the oldest of the Shendar domes. The old Stratanian coat of arms features the rose as the focus point. However, the rarity of the flower makes an accurate description of the flower difficult, at best, and there are few written sources of information on the flower, Frigord the Weird's account being one of them. Yet, his name alone lends a certain amount of skepticism to his account, especially given the hallucinigenic properties of the rose's fragrant smell.
Ancient Shendar oral culture has a warning poem about the temptress rose, one of the only other vaguely defined depictions of the Black Desert Rose: a flower with black petals and green stem, thorns, and a pleasant aroma that alludes to having hallucinatory effects purposely designed to draw its prey in.
But the most characterstic feature of this flower is its elusiveness; it is seldom seen. Unique to the Ráhaz-Dáth Desert, the BLack Desert Rose is not found on other continents, not even those of Aeruillin. During the wars with the darkfriends, especially the Third Sarvonian War, the Black Desert Rose was found several times by Stratanians. The finders were brutally executed as the rose, because of its malicious nature, was considered an ill omen of the Dark One, Coór. These events are recorded in the Thalambathian library, though its blacker pages of Stratanian history died out after the war as once again it was rarely found.
A special fact about the flower is that it seems to be attracted to evil — or next best, people with evil intentions. Its habit of being acquired by the Templars of the Black Pearl, the Seven of Thalambath, and Darkfriends from the Third Sarvonian War.
The origin of the dark rose remains elusive — speculative at best. Myth has it that the city of Thalambath was created with magic. Still lingering powers cause certain flowersto create this malicious offspring.
Quite an amazing flower of succulence. Too bad its fake…welcome to Santharia.


Link: from the world of Gean Firefeet | Black Desert Rose