Gilding's little brother is but one year away from making the big decision of community college or university — to go away for school, or remain in the safety of a clucking mother's home for just one more year while attending our local college. Since his Freshman year in high school he has been of the opinion that he will attend straightaway to his degree at Auburn University, and he has worked steadfastly at it. But given that this is a blood relation to Gilding you know damn well this plan of his couldn't possibly be of the normal account, and lo-n-behold last month he revealed the master plan he knew would irritate the shit out of his older sister. No dorm room living, apartment hunting, house shacking up for this gilded brother. Nope, he wants to purchase a camper and live in that. See, just hearing that you know that's going to irritate the living hell our of Gilding. All that closed in space, recycled air, and what-not. And don't even try to argue with her about the recycled air thing. That close in proximity to anything let alone everything leads to recycled air. There's simply not enough space for exhaled air to disipate before you breathe in your next breath. Blech!
And then Apartment Therapy had to go and find these Airstream Penthouses.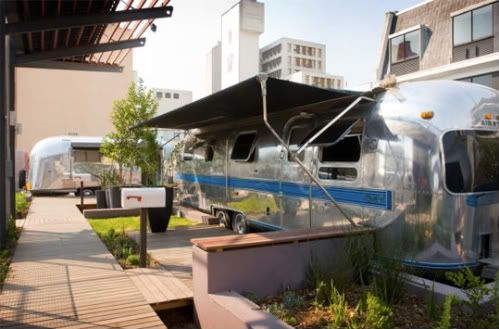 The Greand Daddy Hotel in Cape Town, South Africa, has re-imagined the concept of "penthouse" using vintage Airstream trailers perched on the roof of the hotel. Each trailer was decorated by one of seven artists/designers from Cape Town. Other than the interesting concept, the trailers offer an amazing view of Africa's Table Mountain offering an idyllic camping experience.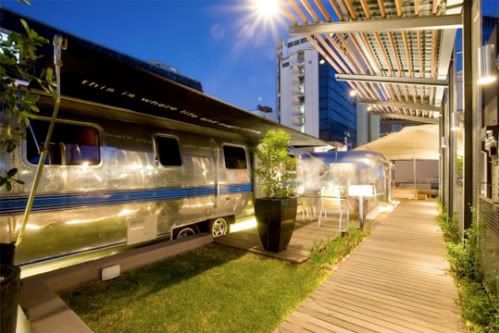 Trailer 1: Afro Funk by Carla Soudien
Inspired by the street fashion of Cape Town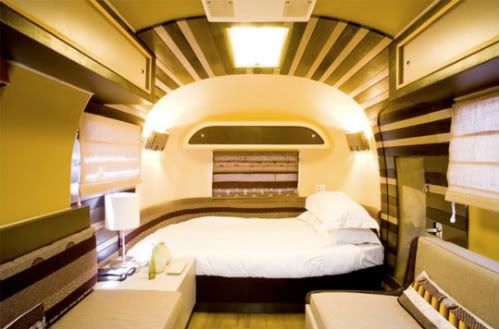 Trailer 2: Love of Lace by Tracy Lynch
This feminine boudoir was created by Lynch and utilizes her favorite color.
Trailer 3: Dorothy by Sarah Pratt
Fine artist Pratt took the a theme inspired by the Wizard of Oz's heroine's dress and carried it through to the smallest detail. Every inch of this trailer down to its accessories is covered in light blue and white polka dots.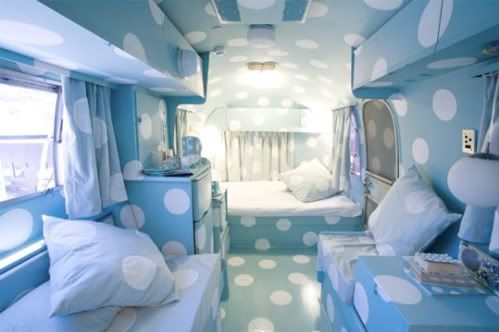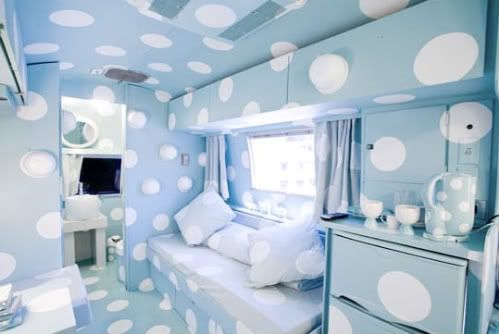 Trailer 4: Goldilocks and the Three Bears by Mark and Joe Stead
Another fairy tale inspiration, this cheeky trailer appeals to families as its the only trailer that comes with a bunk bed. Or it could appeal to the naughty adult — the closet is stocked with plushy bear suits.
Trailer 6: Pleasantville by Liam Mooney
The creative director of Whatiftheworld as well as the creative director of the Penthouse Park Project, Mooney decorated his trailer in this 50′s style hom, taking ues from popular colors and fabrics from that era. Mooney recreated the look and feel and even paid close attention to the details, such as the bookcase that is stocked with cheesy romantic novels from the 50′s. Oh, and there are wall ducks!
Trailer 7: Earthcote Moontides by Susan Woodley and Brigitte Dewberry
Gilding is diggin this one. Ok, she's digged all of them, but she could picture her brother liking this one. This dreamy trailer is about taking "a soul journey" and is decked out inp pearly, luminescent textures and muted earth tones.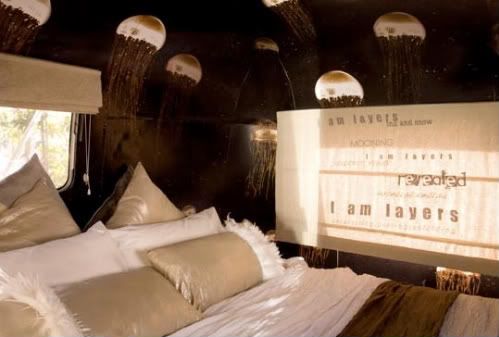 More images and details about each trailer is available at The Grand Daddy Hotel Cape Town.
[Via apartment therapy]