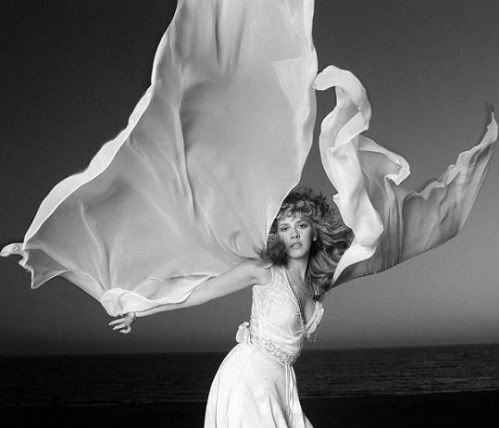 At 60 she still rocks the gossamer tunics and shaws that have seduced and bespelled two generations of the hippy sorceress's acolytes. And while audiences have rocked to, aged with, newly discovered from the records hidden in their parents basements the music of Fleetwood Mac, it is invariable Stevie Nicks, the love child goddess that they are besotted with. Ruth La Ferla said in this New York Times article that "the rock star is no sylph. She is the anti-Madonna — fragile and ethereal — and as constant as the tides" and isn't that but a bit of the magic that so encapsulates us in Nicks' gossamer embrace.
Today Nicks remains a legend encompassed in the romantic eyre layers of chiffon and lace and speculations of the relationship she had with long ago lover Lindsey Buckingham — and her phoenix rising-like saga, a rebirth from the ashes of drug abuse and rehabilitation.
And now Lindsay Lohan reportedly wants to buy the rights to the singer's life story and play her on the big screen.
Nicks told New York Times "Over my dead body." Just the kind of candor that has endeared fans for generations.
And now Gilding is going to go dig her shaw and cotton handkerchief cut skirt out of her closet and dance about the apartment blaring some Sweet Angel and Bella Donna.