Photo by aerialphotographer on panoramio.
Located in Lede, the smallest of Belgium's municipalities, in a park close to the village center, stands the decayed castle Koninklijk Gesticht van Mesen, named after its last owner. At least, according to this photoblog by Rene Knoop, compiled in 2008, the castle still stands, though talks of demolishing the castle have been in circulation since the late 70′s, after procedural mistakes revoked the once in place historic preservation act that had been protecting it. A more recent protection request was submitted for the preservation of the castle, but the ravages of time and nature on its remnants outweighed the proverbial costs it would take the repair it, so the protections proposal failed.
Built in the 16th century, the castle remained in the family Bette until the 1800′s when it was used for the local gin distillery, a sugar refinery, a potash refinery, and a tobacco factory, which was housed in the caves of the castle.
In the 1900′s the castle was sold to a religious order who bult an impressive neo-gothic chapel. After the First World War an institution bought the castle and established a school for the local children, in which a new aisle was added as well as a Dutch pavillion and a boarding school. adding more buildings to the already expansive property that included several outbuildings, like stables and an orangery. In total, Mesen takes up a total of 7 hectares, half the total size of the city of Ledes itself.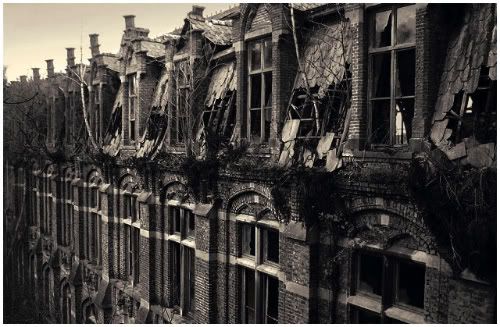 Photo by Past Glory.

Sentinels, photo by Opacity.
Forbidden-Places has some really nice comparison images of the current building and the way that same photograph looked in the castle's prime, as well as more history on the castle. Past Glory also has more photographs and history on Castle Mesen. Both websites, also, have several archives of other abandoned ruins explored.
And just for shits and giggles, telefuncker has a whole thread on abandoned Belgium castles — or slightly smaller but equally majestic mansion.