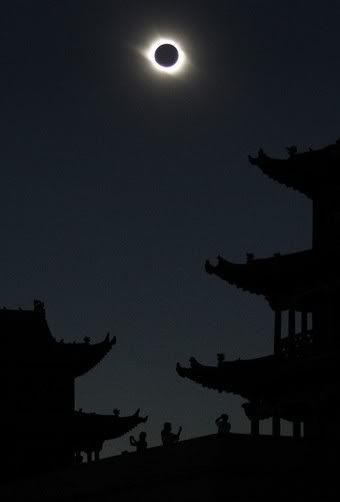 So apparently the apocalypse begins tomorrow with the Solar Eclipse. Wonder if Gilding's Emergency Hurrican Kit is equipped for the apocalypse…?
In truth, Indian astrologers are predicting violence and turmoil across the world will result of tomorrows solar eclipse — which the superstitious and religious view as a sign of potential doom.
In Hindu mythology, two demons, Rahu and Ketu, are said to "swallow" the sun during the eclipse, snuffing out its life-giving light and causing food to become inedible and water undrinkable. Wonder what the mythos has to say about the two demons regurgitating the sun?
Pregnant women are advised to stay indoors, preventing impending birth defects, while praying and fasting and ritual bathing, particularly in holy rivers, are encouraged. You know, Gilding read once that India, per capita, has the most birth defects resulting in severe physical mutations (i.e. Cyclops Baby, the Khan Family, Devendra Harne, and the other half a million babies born in India each year with birth defects).
And while families in India are doing every thing they can to have their June 22nd scheduled caesarian's rescheduled for any day but that day, astrologers are predicting that with this deeply rooted belief in Indian society, there will be a rise in communal and regional violence in the days that follow the eclipse, particularly in India, China and other Southeast Asian nations — where the eclipse will be seen on Wednesday morning. Why does it have to be violence? Think about it, with such a "cataclismic" event in your belief about to happen, why would you want to react to choas with choas? Isn't that a bit ironic — or would that be moronic?
One astrologer, Raj Kumar Sharma, has even predicted that some sort of terrorist attack and a natural disaster shall result of the eclipse. To be more specific, he predicts that an Indian political leader could be killed, increasing tensions between the West and Iran, escalating into possible US military action after Saturn moves from Leo into Virgo. For the non-astrology following, that's "what's your sign" speak for September.
Sharma says, "The last 200 years, whenever Saturn has gone into Virgo there has been either a world war or a mini world war," he told AFP.
But, while one astrologer warns of evil portent with Wednesday's upcoming eclipse, Siva Prasad Tata, who runs the Astro Jyoti website, writes that while eclipses, and their subsequent wacky pull on nature, are a natural phenomenon, there is an upside. During the period of the eclipse, the opposite attracting forces are very powerful, and from a spiritual point of view, that makes for good worshipping juju.
Related Article: Yahoo News– Solar eclipse pits superstition against science