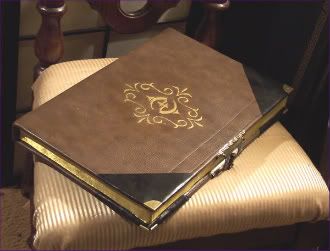 Remember Gilding's obsession with paper, books, and gorgeous pieces of both in one? Well as much as she loves her old, Gilding is a sucker for her laptop and all the toys she has that goes with it. Keep in mind, along with writing, Gilding's other passion is photography and digital manipulation…Oh, and Mr. Gilding, but you already knew that.
So imagine how all a-flutter Gilding's little heart went at Datamancer's Opti-Transcription. (The first appearance of Datamancer's work on Gilding the Lily was on his Steampunk Laptop.)
This custom fabricated leather-bound tome [above] actually houses a flatbed scanner. The scanner sits inside a sheetmetal framework with the book built around it. Datamancer gives details as to the materials used to make the 'book binding' that is the covering to this scanner. But let it be known, this was a first attempt and future batches of the Opti-Transcription are in the works so they can only get better from there.
Now for the best part. This peripheral was designed to accent Datamancer's Computational Engine project.
Now, how badass is this~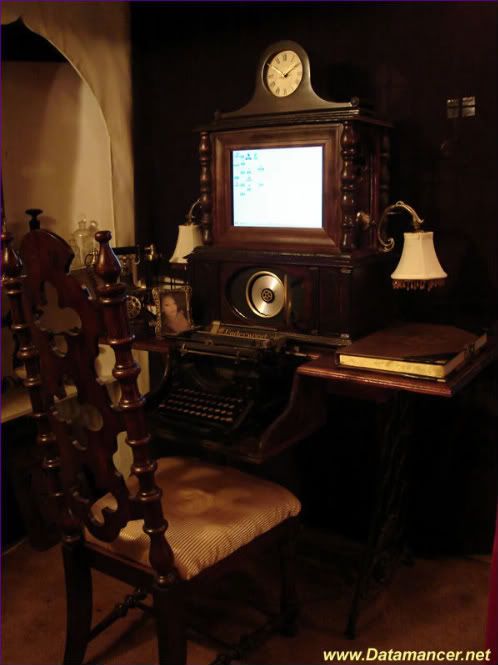 Ok, so the full title to this constraption is The Nagy Magical-Movable-Type Pixello-Dynamotronic Computational Engine. The purpose for this display of paraphernalic technofetishism: to 'retrocentrically' create a false historical heritage for the modern computer.
Unlike the era to which 'Steampunk' honors, the modern computer was not given to adornment as its comparable brethren: The steamengine, with its gilding of the finest woods, ivory, gold, intricate inlays, and decadent tapestries. The automobiles of the 20′s to 60′s which were designed and adorned to capture the work of art that such technology was. And the television and radio which were given over to intricately carved wooden cabinetry through which its culture changing power of picture and sound blared through homes across the world, forever altering the dynamic of communication. The computer…well, it was given over to plastic. Datamancer seeks to give the modern computer an alternate history of "Golden Days" so to speak.
The Computational Engine project is still a work in process. Once complete, the plan is the eventual release of a line of fully themed, matching office suites to include keyboard, mouse, monitor, PC case, scanner, printer, and custom office furniture to house them.


Link: Datamancer