So, Gilding & Mr. Gilding have been doing some strategic life planning after our experiences with FSU and UF. Frankly, our faith in Florida's education system has been damaged beyond repair, and you can only base so much of life on Faith alone. Mr. Gilding in particular has had his fill of spending time in taking on education — between elitist attitudes that question, scoff, or belittle his life as an artist in a wheelchair, bureaucratic bullshit between universities and campuses across the board that has whittled his Associates degree in the Arts to something worth little more than nothing and accepted nowhere (and that's above the already there stigma of Arts as a degree). And frankly, Gilding herself has run out of things to say to him to make it all better. Florida's current education crisis affects not only grade school but has created all sorts of trickle effects in higher education that was unforeseeable.
Everyone in the nation should (by now at least) see that the "No Child Left Behind" shit is just that — shit!. And that standardized testing, let alone basing a school's funding on test scores, especially when those reward funds go to schools that already have funding and money and the grades rather than going to the inner city and poor schools that need it, is a backwards, fucked up system that only promotes the continued establishment as well as exponentially exacerbates the current status of poverty to new and greater levels. More over, standardized testing has created stupid college students that can't study, can't learn, and are little more than programmable robots. And the few that can think are little assholes because they know that they are ahead of the game — which is stupid because thinking should be a fucking given, not a quality rewarded by tolerating that shit-head attitude.
And universities don't want to deal with their asses either. Which has only helped promote attitudes of elitism and reward for those with enough money to buy their way in to the right school and fuck all the rest that worked their way through hard work and determination. Correction, those hard workers can eventually make their way in to the Florida University of their choice — but more than likely they are going to have to bounce from one University to the next in the hopes of finally achieving all the core requisite classes that that ONE particular university requires — or make the decision to settle for receiving a degree from a school of third, fourth or even fifth choice. And that's just shitty. Gilding holds out the hope that this is only a Florida education crisis reality and not nationwide, but if trends hold steady, this reality will be spreading to a hometown near you like the virus that it is.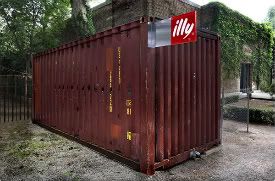 So — obviously not in love with the education system as it is currently, and not yet ready to locate to some far away state where no family lives, the Gilded Duo have been in search of a life decision that makes them happy and financially secure — well, as secure as you can be in the times of recession and stupid bureaucratic sell-outs. The idea of a cafe has been a recurring one that the Gilded Duo can't seem to escape. What kind remains to be a surprise…to you, not the Gilded Duo, of course. But how friekin' cool would it be to make this your favorite local cafe to hang out at.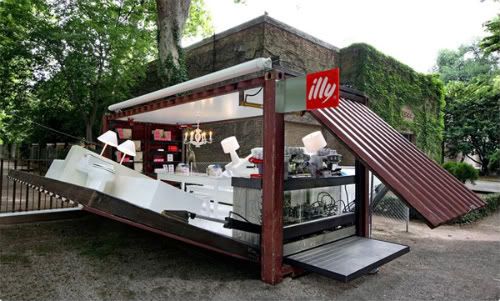 Just in case you're thoroughly mystified, that is a shipping container that slash-cafe is made out of.
A few years back, several architects, Adam Kalkin being at the forefront, began a movement to solve the problem of creating low income houseing that both the day laborer and the government could afford. On the heels of that problem was the rising shipping containers that were piling ever higher in shipping yards, blocking the views and in some cases the sun, of the neighborhoods behind them, as America was importing more than it was exporting. This issue hasn't changed, but Kalkin saw an opportunity to resolve both problems. And thus he began making homes out of shipping containers.
This illycaffe is a spin-off from his Push Button House design. And yep, that means that this cafe opens with the push of a button.
Wonder if its a trademark infringement to name ours sillycaffe? It does have a nive ring to it.


Link: NOTCOT | Adam Kalkin