Gilding once told her Dad, she didn't want a tree house unless it was made out of a tree. Guess what, she never got a tree house. But there is just something so magical about literally being inside of a tree.
These installations by artist Patrick Dougherty bring all those whimsical dreams back.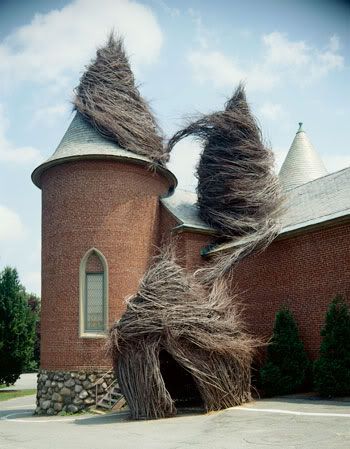 Spinoffs, Decordova Museum, Lincoln, Massachusettes, 1990. Ph: George Vasquez.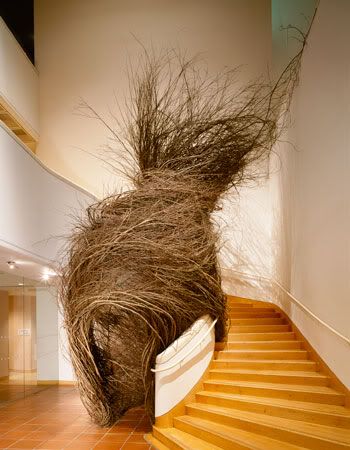 Crossing Over, American Craft Museum, New York, New York, 1996. Ph: Dennis Cowley.

Trailheads, North Carolina Museum of Art, Raleigh, NC, 2005.
Ph: Courtesy of the North Carolina Museum of Art.

Around the Corner, University of Southern Indiana, New Harmony Gallery, New Harmony, IN, 2003. Ph: Doyle Dean.

Call of the Wild, Museum of Glass, Tacoma, WA, 2002. Ph: Duncan Price.

The Summer Palace, Morris Arboretum of the University of Pennsylvania, Philadelphia, PA, 2009. Ph: Rob Cardillo.
With his skills in carpentry and a love of nature, Dougherty began studying primitive techniques of building. From there he began to experiment with tree saplings as construction material. His first work, MapleBodyWrap, built in 1982, was included in the North Carolina Biennial Artist's Exhibition. By the following year, he had his first one person show. Since then he has build over 150 works throughout the United States, Europe, and Asia. The above works are just a sampling — Gilding's favorites, so to speak. Trust when she says, it was hard to narrow it down to these. More of his works can be seen on Patrick Dougherty's site.